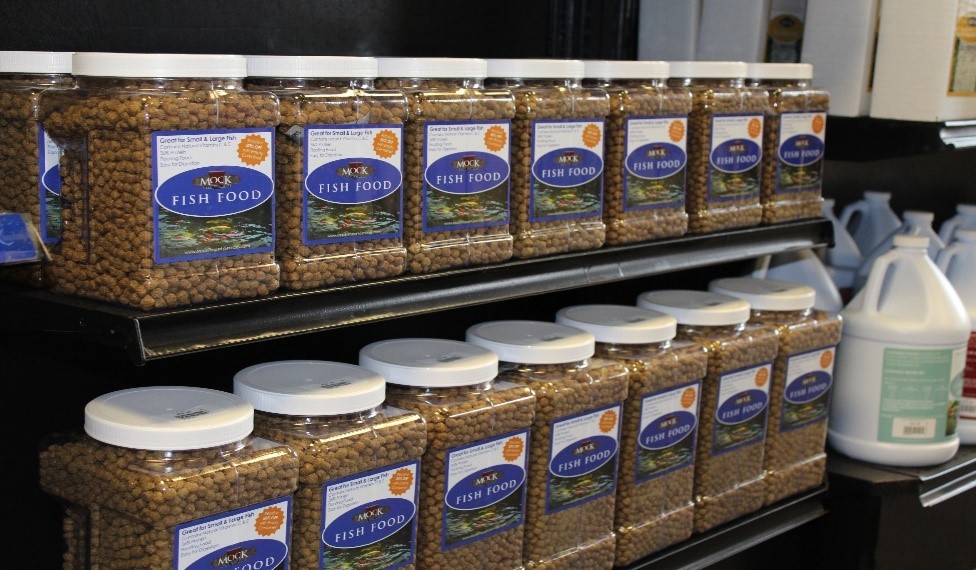 We offer a high quality, high protein fish food.  Available in 3 pellet sizes, we also offer a discount program for container refills.  Bring your container back when you're almost out of food, and we will give you 20% off of your refill!  For those shy fish, we also offer a sinking fish food pellet.  This item also applies to the refill program as long as you bring us your old container!
Our summer staple fish food is a minimum of 36% protein, and should only be fed to fish when the water temperature is over 65 degrees. Fish in hibernation cannot metabolize or digest a high protein diet.
When water temperatures are between 55-65 degrees, you need to feed your fish with a cold-water food. Cold water fish food will have a much lower protein content and your fish will be able to metabolize this food as their bodies start to slow down for winter.  During the fall and spring months we have this in stock!  Once the water temperatures drop below 55 degrees you should stop feeding your fish altogether.
Have FUN feeding your fish by offering a variety of treats.  Believe it or not, Koi and Goldfish enjoy fruits and vegetables such as watermelon and mango!
We also stock "Koi Krunchies" that are like "Cheetos" for your fish!  These are available year round.
Koi will eventually eat right out of your hands if you feed them at the same time every day.  They will begin to recognize you by the sound of your footsteps!
Corporate Office
Hours of Operation
Retail Store
Hours of Operation