Your Backyard Oasis Awaits
Mock Property Services is a high-end design/build firm composed of a friendly front office, visionary designers, skilled craftsmen, and a local storefront joined together as one team with one goal: bringing to life a wide variety of outdoor living dreams while creating lifelong customer relationships.
Projects
Change the way you live outside
Most of us dream about having an inviting home; the kind of place that brings the peace and relaxation of vacation to your home. The backyard would be designed around a sparkling swimming pool; surrounded by a natural landscape and flowing water features. Just outside your back door, a relaxing hot tub complete with cultured stone surround, set on a custom designed paver patio. Host dinner parties in your outdoor kitchen and bar area – without the stress of cleaning every inch in your house. End the night around the fire pit roasting perfect golden-brown marshmallows, with a glowing sunset view just beyond. Now the time has come, you can finally build your dream outdoor living space. The Mock Property Services team, led by owners Jeremiah and Tracy Mock, is ready and eager to make your dreams a reality.
"Let us help you "Love Where You Live"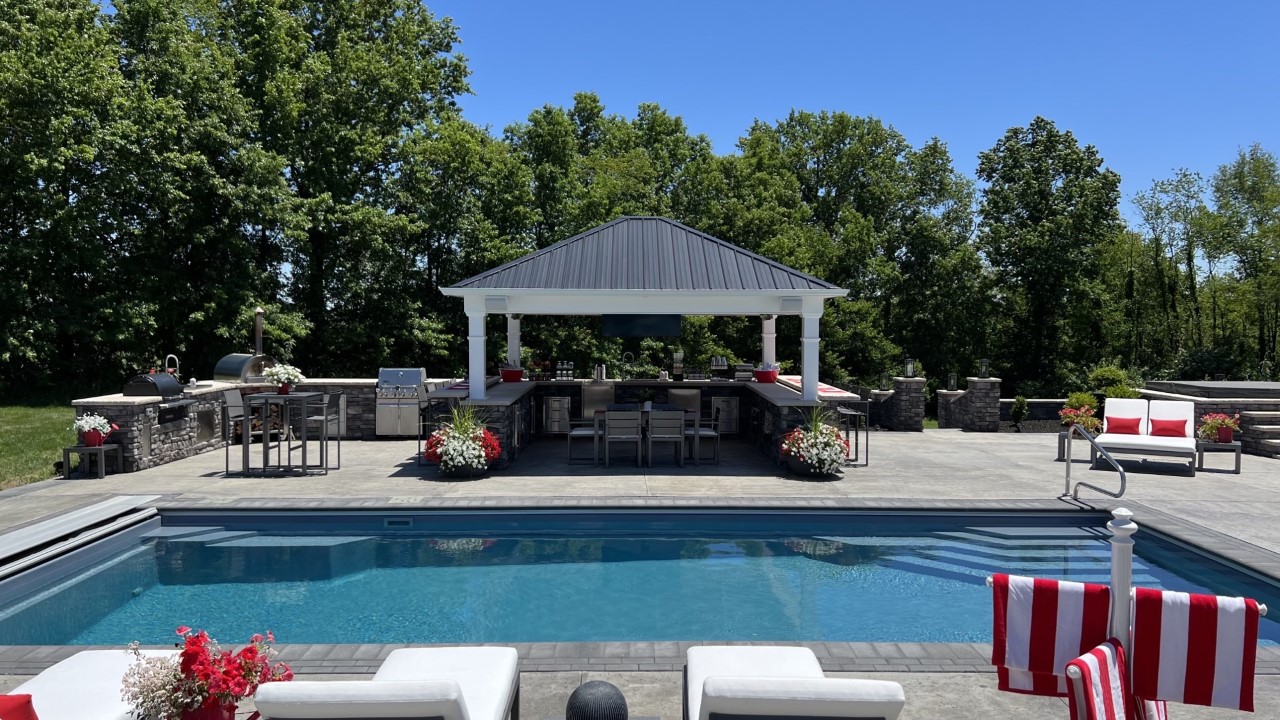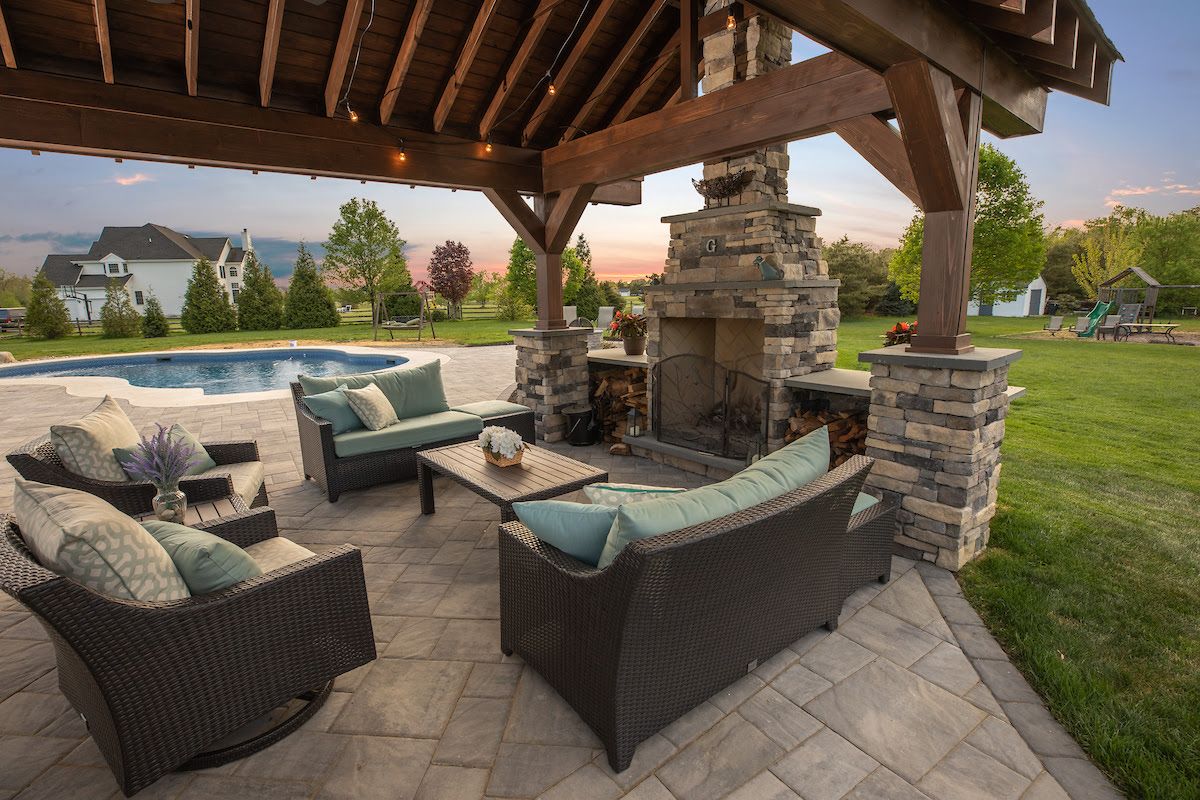 Discover what you are missing.
We imagine, design, construct, and passionately care for outdoor living environments that positively change the way our clients live and experience the outdoors.
Mock is a Master Certified Aquascape Contractor. Certified Aquascape Contractors are among the most experienced and qualified pond builders in the water gardening industry. All Certified Aquascape Contractors are expected to maintain a reputation of excellent achievement and attentive client care, as well as to engage in ongoing education and training programs.  
 Your outdoor space can be utilized in all seasons! Designing with fire adds warmth and visual appeal even on the coldest days. And, let's be honest, it just looks cool.
Hardscaping Patio Walls Fireplaces
From a bare open field to an elegant entrance leading the way to the stunning backyard.
We use innovative technologies and our unique design sensibilities to turn the landscape you have now into the outdoor space you've always wanted. Get inspired by our custom work.
Attention to detail outside the home is just as crucial as attention to detail inside the home. Implementing and positioning plants and flowers among waterfalls, outdoor kitchens, pools, patios, and fireplaces requires an experienced and intentional design and designer, which is why we hope you'll allow us the privilege of transforming your backyard!
Lighting is just as important, if not more important, than any other piece of a design build project. Or, it can be a project all on it's own! Lighting can be used in many different applications, for  function and for aesthetic.
Robert Selick -North Royalton
My wife and I contacted Mock Property services in August 2020 when we decided we were going to build a new home. We were in search of a company that could act as a general contractor and lead the way for our new outdoor living space when our new home was built. I asked the owner, Jeremiah, to come out to our current home to assess our current backyard (deck, pool, concrete patio, etc) and our hopes to expand upon that in our new home. Jeremiah met with us to discuss our ideas, add ideas of his own and began the design process. Fast forward to July of 2021, the home was built, we had moved in and we were ready to start on the backyard. Jeremiah and his team delivered a beautiful deck, pool, stamped concrete patio, outdoor grill, stone wall with a gas fireplace, heater, fence and shed. Above all, my wife was interested in a backyard pond. Jeremiah and his team, specifically Connor, delivered. The diligence in creation was awesome and we had the pleasure watching it come to life day in and day out. Jeremiah's office staff was a pleasure to work with in handling phone calls, questions, add ons, etc. The guys in the field worked their tails off in both hot and frigid temperatures to keep the project going almost year-round. We now sit here a year later with smiles on our face and the ability to host family and friends and enjoy the good time we've already had and the many many more to come in the future. Thank you Jeremiah and team for a job well done!
Al Ternosky - Tallmadge
We meant to write this review last summer but we were just too busy enjoying our new backyard! Our situation was unique because we already had a huge in-ground pool that was way past it's life span and needed replaced. Initially, we were nervous about how it would all work out but right from the first meeting with Jeremiah we felt that he had the right stuff to get the job done! He had a very cool and calm demeanor that put my wife and I at ease throughout the process. Once the guys showed up they were awesome! Brandon is the man, and although I can't remember the young guys name, we talked bourbon and smoked a stogie or two while he worked. From design to completion everything was top notch! Just waiting to pop the top on this bad boy!! – Alan & Joanna Ternosky
Sarchione
Extremely professional, their employees are top notch and their work can't be beat! Jeremiah and his team has gone above and beyond to meet all my needs. The Mock Team has delivered time and time again for my family. No job is to small or to big for his professional team of employees. I highly recommend Mock Property Service to anyone.
Mike Morgan -Tallmadge
Top Quality work from true landscaping visionaries and professionals. They put in a pool, pavilion and fireplace for us and we couldn't be more pleased with how everything turned out. Wish I could share pictures so everyone could see our amazing back yard oasis! Will be using Mock Property services again because of their excellent customer service, thorough & detailed communication throughout & overall willingness to make our landscaping dreams come true.
On a side note, just to let you know what kind of business this is, we had our well pump go out due to a storm and when the owner Jeremiah found out that we didn't have running water at the house for a couple days, he offered to put my entire family up in a hotel until the water was back on. Who does that nowadays? That is truly doing the right thing and caring more about your customers than you do about the bottom line. This is why Jeremiah Mock & Mock Property Services have a customer for life! If I could rate 10 stars I would.
Chris Baldwin - Green
Our back yard needed a facelift but I didn't really know what we needed. I knew that we had water drainage issues, that our pool area had seen better days, and that I needed a professional. After I met with Jeremiah and saw some examples of his work I knew that I was heading in the right direction. Here we are – project completed! The yard looks amazing, my basement is dry as a bone and the pool is ready for a party! Thanks for all your help and making our property look awesome!
Keith Kemmerline - Stow
We had Mock Ponds install a pondless water feature 14 years ago. We have loved it and used it almost every day we can be outside. It is a pleasure to look at and extremely soothing to listen to. We can't thank Mock Ponds enough for their creative design and very professional installation.
Bruce Hill- Stow
I have done business with Mock for over 15 years. Great company that gives good service and they do what they say. The owner, Jeremiah Is an Upstanding man. I recommend them highly.
Cindy Grable -Mogadore
They have all the pond knowledge and products that I need. They also have done many large landscape projects for me. They were very professionally done with beautiful results. Very honest and fair and wonderful people to work with. I HIGHLY recommend them.
Scott Janda
Jeremiah and crew do a great job! Their attention to detail and ability to get the job done on time are always appreciated!
Jack Walchuck
Positive: Professionalism, Punctuality, Quality, Responsiveness, Value
Fantastic design and service. Always a professional experience. They do gorgeous work!
Services: Landscaping, Design
Like
Ken Ridenour
The work On my property, patio upgrade a couple years ago and pond renovation last month, was done with excellence. My experience with your friendly staff at the store was also very pleasant. Thank you for being so dedicated to provide your customers complete satisfaction.
Charles Myers
True experts are hard to find but they are available at Mock Properties. Owner and the staff are people who are friendly and worthy of repeat business. Very satisfied.
Steve Noffsinger -Hudson
Jeremiah Mock and his team are very professional and are experts at pool installation. Thanks Jeremiah!
Aaron Mertz -Wadsworth
Customer Service, customer service, customer service. Jeremiah Mock exceeded our expectations, and that is difficult to do. If you're looking for a company to do any type of backyard transformation, stop looking and call Jeremiah. We trusted Mock and are very happy with the results.
We learned quickly that "Jeremiah is always right" as he guided us through each step and explained his vision for our backyard. "Digger Dave" was also awesome. Even the office staff were great.
No complaints. All companies should have this level of customer service and quality of work. I highly recommend Mock Property Services.
JD T
Mock did an amazing job building our pond. From the first meeting to finished product, we couldn't be happier. First class with everything they do!
Lori Hudnall -Akron
Mock pond are the experts! They have always taken the time to answer any questions I have had about my pond and fish. They suggest affordable solutions that have always worked! I also get my annual mulch here and it is very good quality! It looks great all season. Thank you for making me feel important every time I stop in!
David Lake
Excellent experience from start to finish.
I had an issue with my pond and within hours of contacting Mock Ponds I was on a video call with the owner Tracy showing her my pond. We came up with a game plan and two days latter my pond was up and running.
The service tech is amazing. His attention to detail was something I have not seen in a long time. He cares about the pond critters and he treated my pond like it was his own. Presented me with several great ideas along the way.
Highly recommended company that I will be using again in the future.
Thank you!
Christa Runion - Stow
We have always had a great experience with Mock Property Services! Jeremiah and his team are creative visionaries who truly will help you "Love Where You Live"!
DeNica Bishop - Akron
After doing a terrible DIY patch job, we needed to have a sidewalk placed to make our home accessible for our daughter. We called around to several companies who made appointments to stop by for estimates, but each one was a no show. Finally, I went to the Mock Pond Shop and asked if they could do the job that we needed. This company went above and beyond with providing quality work that they stand by! They didn't just perform the service we requested, but helped us learn to "love where we live". I am so grateful for finding this gem, for the awesome work they do and for the wonderful and caring people that they are!
Sue Bauch
Mock Property Services has always been very kind and helpful to me in the many years I have been going to them. They have always been on spot correct with their advise on my pond maintenance and have come out to the house with more complicated situations I have encountered. Mock Pond also put in a brick paver patio for me, as well. The patio is very attractive and has held up well over the years. Above all else, when I visit the store I am always greeted with a friendly smile and an attitude that is anxious to help me. Thank you Mock Pond for the years of excellent service!
Sue Willie- Tallmadge
A huge thank you to Mock for installing a beautiful water feature in my backyard. From the design process to the installation, the contractor was professional and paid attention to my needs. The final product was amazing. Before they left the house, the Mock staff explained the connectivity and the care of the water feature. A very patient staff and worked very hard to complete the project.
Adam Doxsey - West Akron
A great company with experienced friendly staff. I just purchased a home with a koi pond and didn't know where to start. The people with mock pond have provided great information and services and have made my experience with my pond enjoyable and seamless. I highly recommend mock to everyone with an outdoor area that needs some assistance.
        Luxury Backyards That Make Home Your Favorite Destination.