Landscape Design & Construction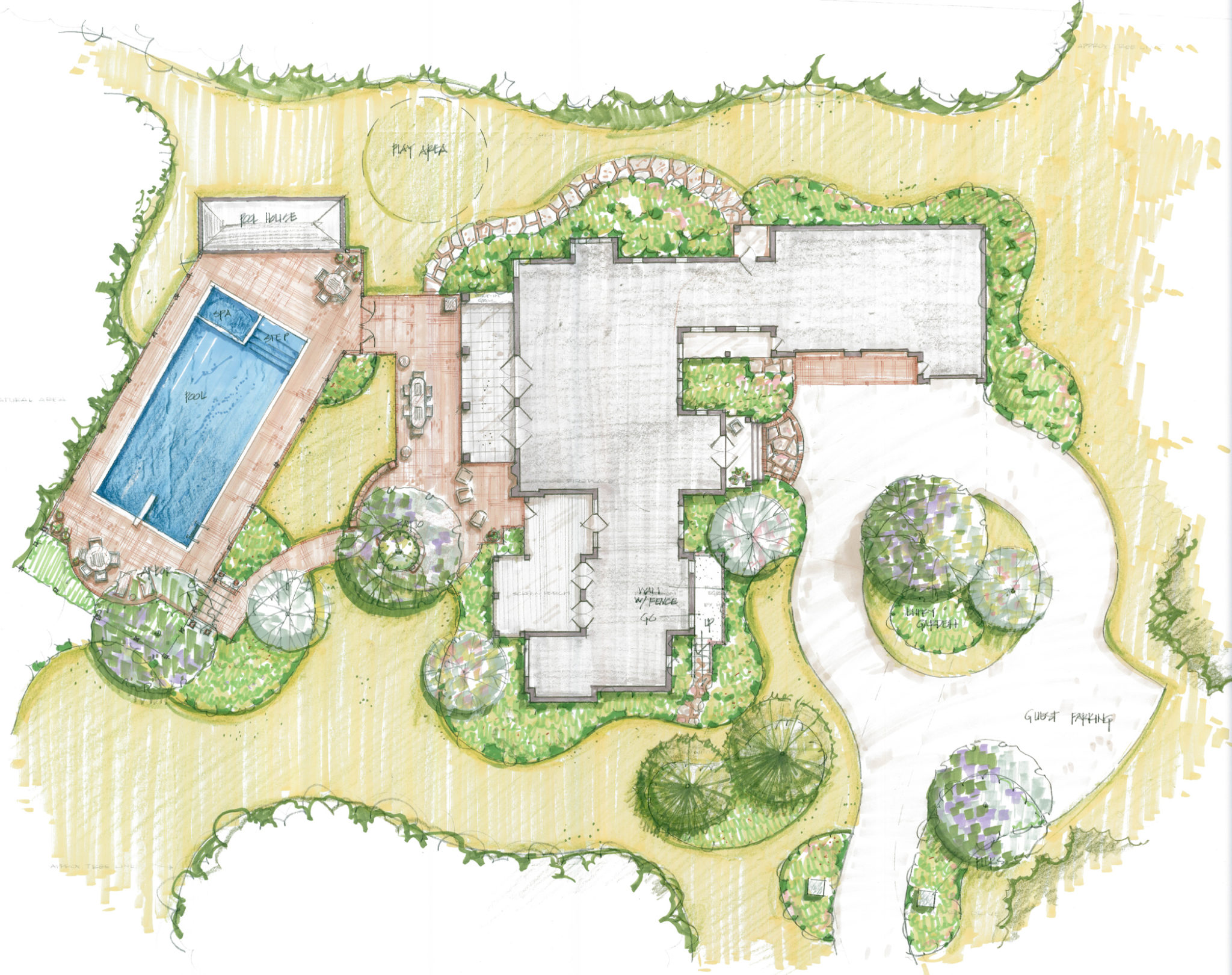 Considerations:
Hardscape Patios and Decks are great outdoor living spaces. A place to relax, spend time with the family or reflect!
EP Henry Products We are an EP Henry Authorized Hardscaping Distributor
Water Features bring peace and tranquility back to your life, all the while adding a natural feel to your yard.
Trees provide a great amount of privacy while adding beauty to your landscape.
Retaining Walls will level out yards with steep slopes to create a more usable space.
Plants while small, are very important to adding a lush feeling to your property year round.
DESIGN BUILD
At Mock Property Services, we truly desire to build an ongoing relationship with all our clients.  We are believers in building community and gathering family and friends to enjoy life with.  The longevity of our services extends to and are individually customized to your ongoing needs.  From consultation, to design, to completion, we believe in creating buildable outdoor living spaces: outdoor spaces that can fluctuate in design and size over the years as your desires or needs change.  "Whether it's a small or large project, the vision is always buildable and our thoroughness will never change." -Tracy Mock 
We don't just want to provide you with a service that initially looks good. Rather, we want to help add to the value of your home indefinitely, while increasing your living space with design build that is precise, well thought out, and visually appealing and welcoming.  Using cutting edge techniques, we guarantee that you'll "get the most bang for your buck" when installing any of our landscape, hardscape or construction designs.  Choosing from a plethora of textures, colors, and styles in plants, flowers, mulch, patios, fireplaces, stonework, decks, in-ground pools, pergolas, and pavilions gives you endless options in how to begin the transformation of your outdoor living space!  Implementing green products into our design build process keeps the balance of a successful ecosystem that will compliment every aspect of your newly renovated outdoor space.  We're all about the fine details here at Mock Property Services, from the beginning of the process, all the way through the finish, quality and craftsmanship are always given to our customers.  American made, and made in Ohio products are our first choice and used as frequently as possible; we believe in supporting local businesses.  Large and small yards that undergo our services, turn heads and become a peaceful oasis where you can invite friends and family to step away and escape into a piece of paradise.  The standard of excellence looks different to everyone, and we believe the hands that go into creating  your outdoor living vision are just as important as the quality products we use.  Our team is highly qualified, very experienced, and eager to help you achieve all of your outdoor living dreams!  Call for a consultation, let's cast a vision together and begin the transformation of your outdoor living space today! 
"Design. Create. Maintain".
COMMERCIAL AND RESIDENTIAL DESIGN
We pride ourselves on working well with other general contractors to ensure timeliness on all our deadlines.  Our Mock Property Services laborers work within our own walls, and amongst other businesses and contractors as a team with one goal in mind: efficiently design, build, and maintain your outdoor living space with quality products and service!  We will work with you to determine the best course of action, and turn broad ideas into realistic, detailed plans all within your desired budget! While we desire to keep costs down, we also know that in some cases, upping initial costs can truly save you money in the bigger picture.  Through consulting with us, and thoroughly explaining your long-term thoughts and desires, we will be able to best guide and direct you to achieving your outdoor living space dreams based on our experience and expertise!  How can we help you plan your commercial and residential "next steps" for an incredible outdoor living space?
CONSTRUCTION
Let's talk construction!  We could go on all day about design and detail, but what we don't want to forget are the long-term goals.  When drawing up plans for construction renovations you should ask yourself, "Ten years from now, will I want these stairs?  Will grandparents and young children be safe in this layout?  Is it wheelchair accessible?  Am I giving ample space for the amount of furniture that will be placed on this deck or under this pavilion? Is this design able to grow as our family does?  How much am I capable of maintaining after this design is complete?"  These are just a few things to consider when planning a big outdoor construction project.  Our designers can help you navigate through potential bumps in the road, and help you avoid them with strategic vision.
Call us today to schedule an appointment.  Let us help you…
"Love Where You Live!"