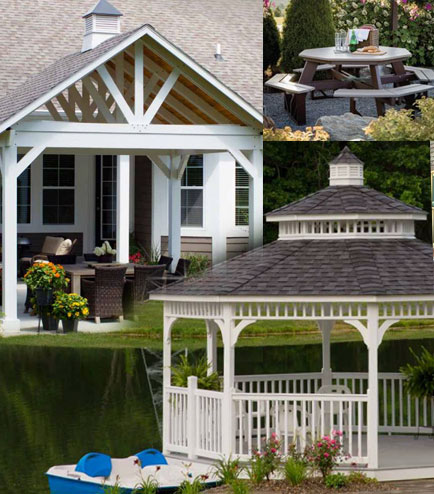 Products We Offer
Gazebos, Pergolas, Pavilions – Many styles and materials to choose from
Design Services – We will take your ideas and design a 3D visual so you can get a better understanding of your dream outdoor living space
Financing – Options available
Gazebos, Pavilions, Pergolas and other Outdoor Structures 
Our outdoor structures are made of high quality materials and come in a variety of styles and colors, and are perfect for the finishing touches of any outdoor living space.  Do you have an idea for your outdoor living space? We can help you design and implement your dream.  We have been helping people just like you for over 20 years. Our design team can turn most any space into a dream outdoor living space that will be enjoyed for many years and can add great value to your home or business.  We work with both residential and commercial clients.
Mock Property Services is dedicated to designing and installing high quality, artistic hardscapes and outdoor living spaces.  This is accomplished by using the best materials available and adhering to installation techniques that go above and beyond the industry standards.  Through years of experience in outdoor living space design and fulfillment, we have worked with a wide variety of clients both residential and commercial.  Not only have we been building beautiful landscapes and hardscapes in Northeast Ohio for over 20 years, we have also been building relationships.  When you choose Mock Property Services you remain a name and not just a number.  Our goal is to provide you with exceptional service, top quality products and create a life long relationship.  There is more to creating an unforgettable landscape than just placing a few plants in the ground.  It is about creating a beautiful living environment, that does not just add financial value to your property, but adds value to your life.  Let us help you…
"Love Where You Live!"
Contact Us
Need some ideas? Send us your photos!
 37 South Cleveland Ave
Mogadore, Ohio 44260
330-628-9100
Follow Us on Social Media
Mock Property Services
37 South Cleveland Ave
Mogadore, Ohio 44260
330-628-9100
info@mockpropertyservices.com
Office Hours
Monday  through Friday:
8:00 am-4:00 pm
Retail Address
41 S. Cleveland Ave
Mogadore, OH 44260
Retail Store Hours
Sunday:  CLOSED
Monday - Friday: 9:00AM-6:00PM
Saturday:  9:00 AM-4:00 PM