Do you have questions about naturally maintaining an existing pond, how to clear up cloudy water, or how to get rid of algae?  Are you looking to enhance your water feature with lighting so that it can be enjoyed day and night?  Maybe you're just looking to soften the space by adding plants, or need a little guidance along the way.  If you are a "do-it-yourself" customer, we can help!  Mock Pond and Landscape Supply is the place for you!  Come in and chat with one of our experts.  We would love to help you find the supplies you need and assist in any way that we can!
On site, we carry a wide selection of Koi, goldfish, fish food and medication, water treatment solutions, aquatic plants, pond and fountain pumps, underwater lighting, "Do-it-yourself" pond and pond-less kits, lake aeration systems, floating fountains, as well as mulch, top soil, and gravel!
We are proud to carry the following loved and trusted brands: Aquascape, PondMaster, Mock Pond Water Treatments, Atlantic, Airmax, Microbe-Lift, Laguna, Pond Care, Savio, Blue Thumb Pottery Fountains, and more!
Regardless of the size of your project, our goal is to provide you the best in supplies and services.
On Tuesday, April 2, Mock Pond and Landscape Supply officially opens for the season!  There are lots of new and exciting things happening in the pond store, and we look forward to seeing your smiling faces, and checking in on those ponds!
Our Spring hours are as follows:
Monday – Closed
Tuesday – 9AM to 6PM
Wednesday – 9AM to 6PM
Thursday – 9AM to 6PM
Friday – 9AM to 6PM
Saturday – 9AM to 3PM
Mark your calendars for our annual OPEN HOUSE dates!  This year our open house dates will be later, with hopes of warmer weather.  Saturday April 27th and Saturday May 4th from 9-3 we will have product specials, vendor giveaways, and FREE classes!
Saturday, April 27th – 11Am
Spring Pond Opening Procedures
Saturday, May 4th – 11Am
How to Select and Introduce New Fish to Your Pond
Attend either class, and receive $5 in Mock Pond Bucks to use towards a future purchase!
Don't forget to register your birthday (mm/dd) for our Birthday Club!  You will receive a coupon for a FREE 3-4″ Select Koi!
We now offer a Loyalty Rewards Card!  Your card will "earn" a punch for every $25 you spend.  Fill it up and receive a FREE 16 oz. bottle of 4 in 1 Formula.  That's a $27.99 value!
Visit 
our webiste
 for a schedule of events for 2019.  Click the "Retail" tab at the top, and scroll down to see each month's calendar.
We look forward to seeing you soon!
330-628-9100
Aquascape Pump Cleaner Maintenance Solution – 8 ounce  $19.98
Quickly cleans pond, fountain, and waterfall pumps to keep them operating properly
Uses cutting-edge cleaning compounds to remove scale and bio-film to restore pump
Aquascape EcoWave Pond Pumps
Aquascape EcoWave Pond Pumps are magnetically-driven (mag-drive) pond and waterfall pumps developed to provide extremely high flow rates.  The internal, smart mag-drive motor technology and vortex style impeller allows these pumps to push an incredible amount of water with an electrical efficiency unmatched by other pumps with similar flow rates.  EcoWave Pond Pumps are ideal for use in pond skimmers and Pondless Waterfall Vault application with lower head heights.
Extremely energy-efficient smart mag-drive technology
Extremely quiet
Made for continuous use
Will not corrode or rust
Compact design
Oil-free design prevents pond contamination
Plumbing adapter fittings included
EcoWave 2000 – $253.98
EcoWave 3000 – $288.98
EcoWave 4000 – $391.98
EcoWave 5000 – $457.98
Aquascape Pond Powerhead – $168.98
The Aquascape Pond Powerhead is an innovative new low voltage circulation pump designed to create water movement in ponds and water gardens.  Either set the powerhead directly in the pond or disguise it using rocks or other materials.
Great for solving problems with stagnant water
Provides water movement, surface agitation, aeration, and circulation
Small compact design makes it easy to install in a new or existing water feature
No pipe or plumbing required
Energy-efficient, low voltage 40-Watt motor can be powered by a standard outdoor 12 – volt low voltage transformer.  Transformers are sold separately
Includes 20′ quick-connect cable
Can be used alone or with additional Pond Powerheads to maximize circulation in larger water features
Aquascape Color-Changing LED Lights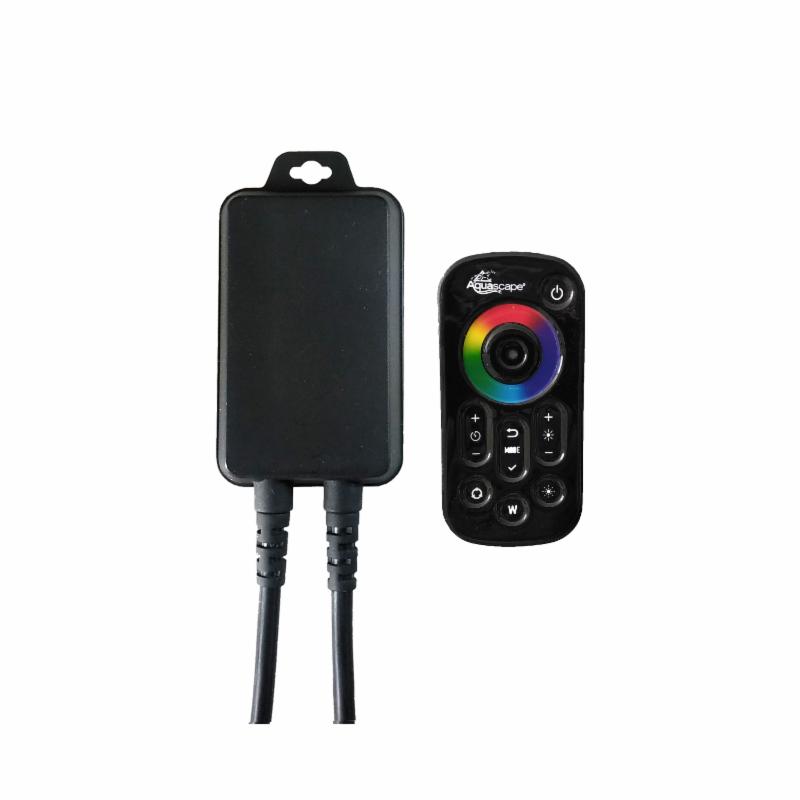 Color-changing diodes provide an impressive range of color options
White diode provides a true white when desired
Integrates easily with Aquascape color-changing lighting accessories
Requires Color-Changing Lighting Control Hub and standard 12-volt transformer
See associate for pricing and availability – all Color-Changing Lighting options are special order only
Visit us at Mock Pond and Landscape for more information!
330-628-9100
5 Types of Hardscape 
to Consider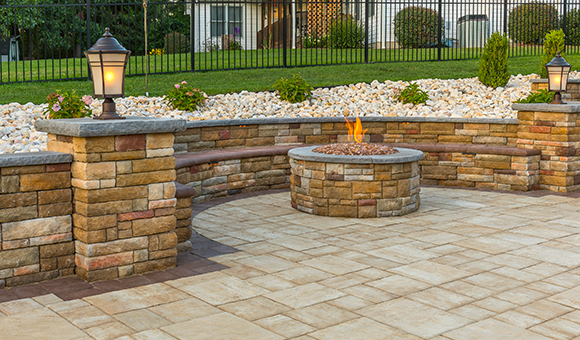 Hardscape makes a great addition to any home. Hardscape adds a unique design element and provides a place for friends and family to gather.
You may be asking yourself "What is hardscape?" Hardscape refers to solid structures that are added to landscape. Hardscape materials include natural stone, pavers, and stacked stone, plus a variety of other options our experts can tell you about.
Adding hardscape to your landscape is also very beneficial.
The benefits of hardscape include:
Decreases erosion
Increases the value of property
Low maintenance
Adds dimension
Adds/ expands living space
We love providing our customers with unique options to add to their landscape. Below are five types of hardscape to consider this season!
Patio
A patio adds comfort to any home. Patios allow for relaxing in the backyard and provide a perfect place for entertaining. You can customize your patio by choosing the size, style, and shape. Choosing a unique shaped patio will make your home stand out. Patios are low maintenance and make a beautiful addition to landscape.
Walkway
Walkways not only enhance landscape designs, they also add a safety element. If your yard contains uneven areas, a walkway can help to provide a safe path to avoid getting hurt. Walkways invite people to follow the decorative path and see the additional features of your home. They also help to keep people from walking on your grass. Walkways tie landscape designs together and add a unique finishing touch.
Fire Pit
A very popular hardscape design is a fire pit. Fire pits add a conversation piece while keeping you warm on chilly nights. They make for a great gathering place where you and your friends can sit and relax while looking at a beautiful fire.
Outdoor Kitchen
What could be better than enjoying the comfort of a kitchen outdoors? Outdoor kitchens provide an area to cook meals and entertain guests. You can add appliances, counter tops, and seating. Cooking outside also eliminates lingering odors from inside your home, especially from seafood. Outdoor kitchens are a very customizable hardscape design.
Mailbox
Custom mailboxes are visually appealing. For many homeowners, a mailbox is the first sight guests see when they arrive to their home. A custom mailbox will create a sense of beauty and uniqueness at first sight. Custom mailboxes also add further security in protecting your mail.
Not sure what hardscape design you should add to your landscape?
Spring Planting Tips
March is a guessing game in the garden. Will it warm up soon? Will it stay warm? Will the rains start/stop? About the only thing we can count on is that March too shall pass. So go ahead and push the envelope, but keep the 
row covers
 handy.
Everyone should have their seeds started, their trees and shrubs pruned and their tools ready to go. After that, the most important thing is to have patience. It's tempting to take advantage of warm days, but even in Zones 9 & 10, spring gets the last word in the garden.
Here are regional gardening tips to take with a spoonful of judgment.
All Regions
Start feeding houseplants again. Re-pot, if necessary.
Avoid walking on wet soil in the garden
Get your soil tested
Midwest
Start Seeds Indoors
Check shrubs for damage. Finish pruning.
Start spraying fruit trees
Remove burlap coverings from around evergreens
Cut back sub-shrub perennials like buddleia and caryopteris
LIKE our New Facebook Page!
Mock Pond and Landscape Supply now has its very own Facebook Page!  Head on over to give us a like at 
Mock Pond and Landscape Supply
 on Facebook, and keep an eye open for classes and promotions!