Dennis and Cherie of Tallmadge contacted us this summer looking for a remedy to the disaster that happened in their back yard in early July.  They had a very large tree come down and destroy their pondless waterfall.  We put our creative heads together, and after a little bit of "sweat equity", we were able to transform their outdoor living space!  Pictured is a wood 16′ x 10′ Breckenridge Pavilion with whitewash stain, and the new pondless waterfall feature.  Dennis and Cherie can now listen to the tranquil sound of water while enjoying dinner under their new pavilion.
Need a Design Idea?  Don't wait, spots fill up quick.  
Call us today!
330.628.9100
Our Fall Pond Closing Service season is coming to an end.  Click and watch this helpful video on how to winterize your pond.  Mock Pond and Landscape Supply is here to help with any questions and stocks all the supplies you might need.  
330.628.9100
Structures
Adding a structure to your outdoor living space will allow you to enjoy the seasons a while longer.  Whether you decide on a gazebo, a pergola or a pavilion you will not regret extending your home into the back yard!  Mock Property Services is an Authorized Dealer for Berlin Gardens in Millersburg, Ohio and can provide you with endless options and features to choose from.  Visit their website 
HERE
 to build your wood or vinyl structure, and call us for a quote!
Call for a quote today!
330-628-9100
Adding an outdoor patio, outdoor kitchen, firepit or retaining walls will increase your home's value and expand your living space right into the outdoors!  Mock Property Services is your ONLY Authorized Dealer in Ohio for EP Henry hardscaping products.  Whether you are a DIY customer, a contractor, or you want us to do it for you…we have everything you need.  Check out these beautiful projects to get inspiration for your next project!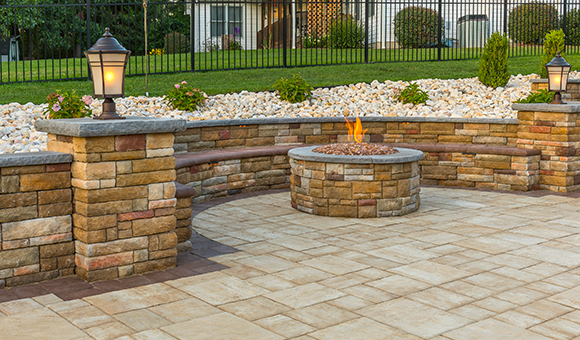 Call for a quote today!
330-628-9100
Have a Pond?
Mock Pond and Landscape Supply can provide you with anything and everything you will need to build or maintain any type/size water feature.
From pond-less waterfalls and fountains, ornamental koi ponds, and earth bottom ponds/lakes with acreage, we have experts on staff that can answer any questions you may have.
Cari, our store manager, is licensed with the State of Ohio in Aquatic Pesticide Application and has completed many hours of training to troubleshoot problems and recommend solutions to care for your earth bottom pond.  It doesn't matter if you have a 1/8 acre or an 8 acre pond, she can help!
Our retail store is open from May 1st through November.  We stock many sizes and varieties of koi and goldfish, as well as aquatic plants.  Mock Pond and Landscape Supply also has a full line of treatments and additives to care for your pond or lake, as well as
a full selection of pond pumps, lighting, fish food and treats, mulch, soil and gravel.  We hope to see you soon!
SERVICES
At Mock Property Services, our goal is to provide you with a source for "All Your Outdoorzy Needs" to help you "Love Where You Live".
We offer many products and services, complete project completion, and consider ourselves a "one stop shop".  Below is a list of services that we offer:
Hardscaping
Outdoor Structures
Water Features
Design/Build Consultations
Pond Maintenance
Landscaping
Lawn Care and Fertilization
Commercial Snow Removal
Excavation/Grading
We are currently scheduling for Spring 2019, we would love to add your project to our list!
330.628.9100
Fun Fact 
The Countdown is ON!
Only 114 Days until Spring 2019!  That is only 16 weeks from now…sounds like a long time but it will be here before you know it!  
On average, it takes 60-90 days to plan an outdoor living space.  If you start now, you can be on our schedule for Spring!
330.628.9100