6 Plants that Need Pruning This Spring
These plants could all use a little trim up this spring to give them new life and vigor over the growing season.
Late spring and early summer are ideal times to prune those plants that don't get a haircut in winter.  Pruning should always be accomplished with sterile tools, which means wiping your secateurs or clippers clean with a 1/10th bleach solution in between each cut. Tools should also be sharp, to create a clean wound that heals evenly without excessively traumatizing the plant tissues.
Here are some of our favorite plants to focus my pruning on in spring.
1. Spring-Flowering, Non-Fruiting Shrubs
2. Young Fruit Trees
3. Hedges & Topiaries
4. Conifers
5. Woody Perennial Herbs
6. Diseased & Dead Growth
It's almost always a good time to prune out diseased or dead branches, but many are easier to see as plants put out leafy growth in spring.
It may be hard to make time for pruning during busy spring activities, but a few quick snips of your perennial plants will ensure they stay healthy and happy for another growing season.
Outdoor Structures and Outdoor Living Spaces
Structures, such as Pavilions, Pergolas and Gazebos, not only add value to your home.  They also provide outdoor living spaces in which you can hold an intimate dinner party, or entertain the whole family for a Memorial Day Party!  Adding properly sized outdoor furniture, potted plants, and curtains can add your own personal character to the outdoor living space, and allow you to enjoy it to the fullest.  You can have your very own structure installed 6-8 weeks after your order is placed!
Pergolas and other shade structures are the perfect way of enjoying the outdoors even when the conditions outside are less than appealing. In the heat of summer, you can relax and entertain outdoors without being overwhelmed by the beating sun. Shade structures also extend the season through fall and winter. If your structure is built with a solid roof or even insulated sides, you can enjoy a peaceful winter morning sipping tea, untouched by rain or snow.
Types of shade structure
Pergolas are a freestanding structure usually placed within the landscape. They can cover a pathway and define the walking space or can cover a patio or entertaining space outdoors. A pergola usually has open sides, and either a slatted or solid roof.
Patio covers are similar to pergolas, except they are attached to the house. This can be an advantage, because the patio cover can use the home for support and thus may cost less to build than a freestanding structure.
Gazebos are an eight-sided structure with a solid roof, most commonly used in traditional garden styles like English or French. Gazebos have gotten a bad name since so many of them have been built from cheap kits and placed poorly within the landscape, yet they can be an attractive addition if the style of the surrounding landscape works with the structure.
Mock Property Services is a proud authorized dealer for Berlin Gardens in Millersburg, Ohio.  Berlin Gardens is a leader in the outdoor structure industry, has a very strong values system, and will provide you with the perfect structure for your outdoor space.  If you have ever considered adding an outdoor structure, contact us today!  We can quote a structure the same day, or if you are in need of an entire outdoor living space we can schedule a consultation!
Call us today!
330-628-9100
Planning the Perfect Patio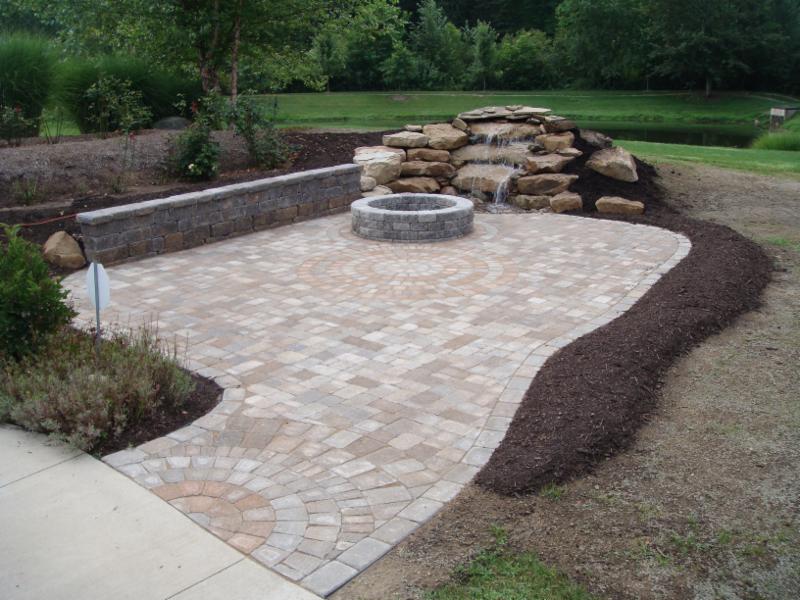 *Article courtesy of House Beautiful Magazine
There's a lot to consider when it comes to planning your perfect patio. You must think about how you intend to use your outdoor retreat, the paving you will use, the right furniture to fit the space, your budget, any additional costs you'll incur, the list goes on…
But help is at hand for amateur gardeners looking to revitalize their outdoor space. Mock Property Services can help you design and choose materials that fit your budget.
1. Keep your objective in mind
Whether you're sprucing up your garden to increase the value of your home or creating a usable space for your friends and family to enjoy, keeping the main objective in mind will ensure cohesion and keep your budget firmly on track.
2. Patio positioning and privacy
When you start to plan, think about the best position for your patio. Where does the sun sit in your garden at the time when you're most likely to use it? Also consider how you can take advantage of any views you have, or alternatively create a private retreat so you can enjoy relaxing in your garden without being overlooked.
3. Think about size
Whether you're planning a cozy space for two, an area for the family to dine alfresco, or even an outdoor kitchen for entertaining, size is key. Ensure the furniture you have or are looking to buy fits the space perfectly, allowing plenty of room to walk around it.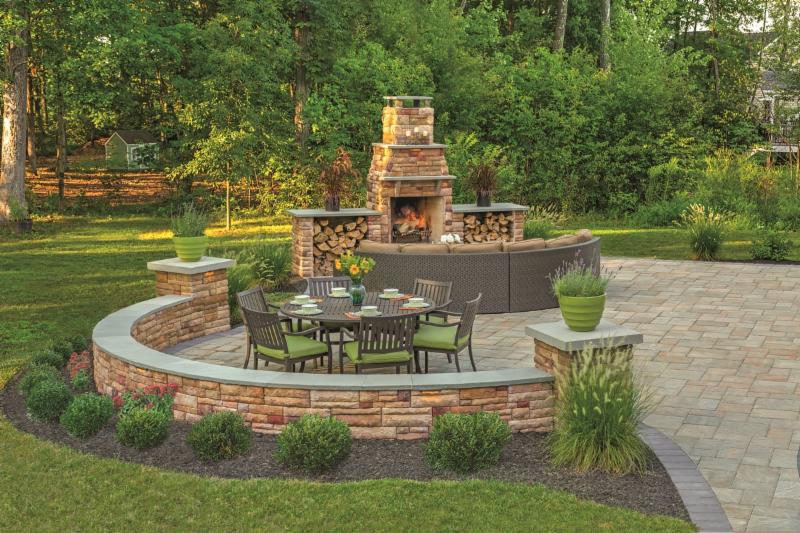 4. Consider zonal spaces
A great way to add zones to your patio is to create split levels with stepped areas. You can also create zones in more cost-effective ways by using plants combined with features such as paving circles, walling and edging.
5. It's all about style
The way you choose to decorate your home and design your garden is a reflection of your personal style, while incorporating your individual tastes, remember to be sensitive to the style of your house too. A modern house will suit more contemporary paving styles, while traditional paving lends itself well to period properties.
6. Set a budget
Knowing what you want to spend and tracking your purchases is an important part of the planning process. Whether you need to account for a professional landscaper or you want to splurge on new planting, setting a budget at the start of the project will mitigate any overspend.
7. Consider design trends
If you want to be at the forefront of garden design trends, minimalistic contemporary design with an indoor/outdoor lifestyle using tones of silver and grey is where you need to head. In terms of materials, porcelain products are becoming increasingly popular, with concrete widely used with interior and exterior design for its industrial chic look.
8. Account for drainage and access
Using a Mock Property Services will ensure that all the necessary ground-works and building regulations are covered, but if you're more of the DIY type, then think about access into your property, how rainwater will drain, and if there are any trees or manholes you'll need to navigate.
9. Plan it out first
Put pen to paper and draw out the garden to even the most basic scale, having it in front of you will help you to plan your patio and wider garden more effectively.
10. Choosing materials
Always do your research! Whether you opt for concrete, natural stone or porcelain, each come with their own features and benefits so it's important for you to research these in order to pick the one best suited to your needs.
Did You Know?
Mock Property Services is your EXCLUSIVE EP Henry Authorized Dealer.  Visit 
www.ephenry.com
 to learn more about their products!
Call for a quote today!
330-628-9100
Mock Pond and Landscape Supply is OPEN!
Save the Date…
What: Open House events
When: Saturday, April 27th and Saturday,
Free Class: 11am-12pm – Spring Pond Opening Procedures You will learn best practices for opening your pond for the season plus receive $5 in Mock Pond Bucks for attending!
Mock Pond and Landscape Supply now has its very own Facebook Page!  Head on over to give us a like at 
Mock Pond and Landscape Supply
 on Facebook, and keep an eye open for classes and promotions!
Our Retail Store Hours are:
Sunday – Closed
Monday – Closed
Tuesday 9-6
Wednesday 9-6
Thursday 9-6
Friday 9-6 
Saturday 9-3
Call today to reserve your spot for our FREE class!
330-628-9100