11 INSPIRED SPRING GARDENING IDEAS
Bring on spring with these design ideas and plant suggestions that will add significant spark to your garden.
By Khara Dizmon
Bring on spring and enjoy your garden anew with these creative ideas from garden experts and enthusiasts across the web. We recently chatted with some of our favorite designers, authors, and retailers who told us what they're excited about this season. Get ideas from their latest innovations and observations for an inspired springtime garden.
Photo by: Pam Penick.
Evoke Water in a Dry Garden
Create the illusion of watery abundance by using a mass of grasses in the garden. Grasses evoke the movement of water, especially on breezy days. For low ripples, try meadowy sedge (Carex spp.) or plains-native buffalograss (Bouteloua dactyoides). Grasses aren't the only plants, however, that suggest water. Many others share this quality including trees, ground covers, and other plants.
Photo by: Walpole Outdoors.
Traditional Picket Fence
For year-round beauty, Walpole Outdoors suggests adding some hardscape to your garden. Structures create a focal point that stands out in all seasons. This traditional picket fence (pictured) sets off the entry to this quaint home and creates a crisp backdrop for seasonal flowers. Arbors also add beauty and give a lift to climbing plants that add a pop of color in spring.
Photo by: Rob Cardillo.
Play with Patterns
Serpentine-shaped plantings, spiral stonework, and curving paths have always been features at Chanticleer. From America's most inspiring garden, executive director and head gardener Bill Thomas explains that patterns are used with the intent to draw the eye into the garden and invite exploration. "Visitors want to follow the ribbon planting of Camassia to see where it ends," he says of Bell's Run Creek (pictured). For a fresh idea this spring, incorporate small details such as a spiraling metal handrail, or an intricate raked pattern for an eye-catching component of the garden.
Photo by: Jason Ingram.
Create a Can't-Miss Container
For that time when spring turns into summer, this container makes bold use of the distinctive spherical heads of several varieties of allium, ornamental relatives of onions and garlic. Their flower heads usually turn to elegant seed heads, which can look decorative for several months. After flowering, their leaves tend to look tatty, but here they will be well hidden by the Heuchera foliage. Planted with all perennials, this mix should perform well again the following spring. Planting Layout: A) Allium christophii; B) A. x hollandicum; C) A. karataviense; D) Heuchera 'Strawberry Swirl'; E) Ophiopogon planiscapus 'Nigrescens'.
Photo by: Cheri Stringer APLD, Owner TLC Gardens.
Personalize with Customizable Landscape Materials
Composites and hardwoods, like Batu and ipe, offer flexible options for individualizing outdoor spaces. "[They] are being integrated into the landscape as inlaid decks against natural gray concrete, or as horizontal panel fences being used as a screen," says Cheri Stringer APLD, owner TLC Gardens in Boulder County, Colo. Such options offer endless design potential, such as this horizontal screen (pictured) whose width, gap, material, and frames are all customizable.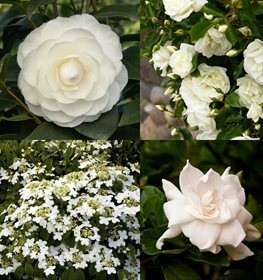 Photo by: Monrovia.
Lighten up with White
Noticing an uptick of orders for plants with white flowers, our friends at Monrovia shed light on a subtle palette color that works with just about anything else in the garden. "From crisp to snowy, ivory to 'dirty whites'," says Monrovia spokesperson, Kate Karam, "particular shades of white-white groundcover roses, white hydrangea, white peonies, white astilbe, white anemonies-offer a clean, fresh, optimistic lightness." When every plant in the garden has to work hard, white adds a crispness that works well with warm or cool hues, stands out at night, and creates a calmness that encourages a relaxed mind.
Photo by: ukgardenphotos (CC) via Flickr.
Emulate Nature with a Wild & Layered Garden
To create a naturalistic garden, embrace plants that naturalize, reduce maintenance, and partner well with each other. "Use regionally appropriate plants that work well in the given setting," says Rochelle Greayer, editor of PITH + VIGOR. To make a strong visual design impact, gather plants in drifts. Or consider matrix planting where individual plants are repeated in a regular pattern to create the look of a stylized mixed meadow. You'll create a garden that is not only beautiful, but also serves other purposes like increasing the health of the surrounding air, soil and water, and actively providing habitat and food for insects, birds and animals.
Illustration by: David Despau.
Repeat One Simple Element
For a striking spring garden, landscape designer Rob Steiner says there is power to seeing a quantity of one plant that is genuinely affecting. "I remember as a beginning garden designer in California being taken aside by my mentor while walking through a vast block of salvia," says Steiner, "and being told that I could, if I liked, use 30 of them-not the three or five I'd typically been planting. It was a liberating moment." Russell Page, one of the great twentieth-century landscape designers said it well: "The most striking and satisfying visual pleasure comes from the repetition or the massing of one simple element. Imagine the Parthenon with each column a different kind of marble!"
Photo by: Philippe Perdereau.
Plant This Now: Agastache 'Blue Fortune' (hyssop)
A staple in Piet Oudolf's own home garden, the vivid blue bottlebrush-like flower spires of Agastache 'Blue Fortune' (hyssop) bloom from midsummer to early fall. They are a magnet for butterflies and other nectar-seeking insects, plus they offer a structure that works against the looser blooms of other midsummer perennials.
Photo by: Todd Holloway.
Simplify with Succulents
Create a spark of interest in potted plants by replacing thirsty flowers with succulents. For this hard-to-water window box (pictured), Todd Holloway of Pot Incorporated chose succulents that resemble flowers-rosette Echeveria in blue, pink and green-plus Sedum rubrotinctum (pork and beans) for contrast and as a trailer. The dramatic lime-green Echeveria pallid suggests a blooming focal point with significantly less hassle-infrequent irrigation needed and seldom deadheading.
Photo by: Eye of the Day.
Spring Garden Project: Pottery Fountain Conversion
No matter what your location or climate dictates this spring, one thing you can do is introduce a water feature somewhere into the landscape. Our friends at Eye of the Day garden design center have honed-in on the popular "Everlasting Spring" fountain which appears to be running into the ground like a natural spring from a mountain. "We have serious water issues on the Central Coast of California, so having a fountain that is both water conscious and beautiful becomes a challenge," says Eye of the Day owner Brent Freitas. Any simple vase shaped pot can be made into a fountain to sit on a reservoir placed below the surface of the ground. Cover the top of the reservoir with tumbled stone, glass or terracotta for a natural look.
Mock Property Services specializes in designing and creating beautiful and sustainable outdoor spaces to enhance your region's natural beauty.  We have experts on staff that can help you 
"Love Where You Live"! 
Call us to Schedule a Consultation!
330-628-9100
4 Ways a Creative Garden Wall Can Make a 
Cookie-Cutter Landscape Unique
A new home in a new development is an exciting prospect. But in a neighborhood of similar home models, how does a homeowner make their house stand out?
With a little creativity and perhaps the help of a landscape designer, adding a simple garden wall to your front landscape can change the entire look of your home's exterior.
Changing your front area is a great way to make your home unique. There are many less involved projects than a garden wall, like improving the lighting, painting the front doors a different color, or installing plantings along the walk. Weekend projects like those can help beautify your space. Adding a permanent installation like a garden wall adds to the architecture of the house. It's a small project (garden walls are at maximum 3 feet high) with big results.
Here are 4 examples where a well-placed garden wall can do wonders.
This Garden Wall "steps-down" to accommodate the 
sloping front yard. 
Leveling a tiered or hilly front landscape is not necessarily the best solution to beautify the space. Levels and variation can give a powerful boost to your curb appeal. The secret is to emphasize rather than minimize the variety. A well-placed garden wall makes a slight hill into a stunner. It elevates a low dip to an eye-catcher. It adds color and texture in otherwise typical suburban swaths of grass.
Curved Wall soften harsh lines. 
Harsh lines. New home designs are wonderful, but they are heavy on straight and diagonal lines. Curved garden walls add the essential circular and arch shapes that are missing. Adding some curves to an overly linear space can soften the look and make the entrance more welcoming.
Disappearing plantings. Landscaping is a good way to individualize a home. Unfortunately, many homeowners don't realize until it is too late that their gardening efforts aren't resulting in effective curb appeal because the plantings disappear from the view from the street. New trees (common in new, recently-cleared developments) tend to seem spindly and sparse. A garden wall changes a garden space by bringing emphasis to the plantings. With a garden wall, a lone new tree goes from looking like an afterthought to an architectural design piece. A flat, front garden transforms from an ordinary space to an extraordinary one, even with immature plantings. These "forgotten" landscape elements are emphasized with a garden wall. It's a simple addition that delivers amazing individualized design to an otherwise anonymous space.
Garden Walls keep front walks tidy. 
Recessed front doors. Having a recessed front door comes with many benefits especially if it is under a roof. Homeowners may love the space when it comes to coming in out of the rain, but a recessed entrance can tend to get lost in the entire look of the house. Proper lighting is the first step. Recessed entrances lit properly at night can be beautiful. To counteract daytime shadows, a cleverly placed walkway and garden wall can solve the "disappearing door" phenomenon. The eye tends to trace lines from beginning to end. Catch a guest's eye at the curb by designing a walkway leading to a garden wall edge that leads to the front door. A garden wall makes the difference between a flat surface that fades into the grass and a delineated design element. A garden wall can bring out that recessed front door in useful and beautiful ways.
Garden walls seem simple and unassuming, but they are powerful tools to use in increasing the visual interest and value of your home. Next time you pass a house with a garden wall in the front landscape, take notice of the line, shape and placement. The best designed garden walls look like they "came with the house," but the installation was most probably a strategic post-construction decision. Look around your neighborhood or visit 
our wall gallery
 to get some inspiration of your own. 
Published: December 10, 2018
Did you Know??
Mock Property Services can enhance your outdoor project with the perfect garden wall!