Christmas Cookies 
(Sugar Cookies)
PREP TIME
10 MINS
COOK TIME
30 MINS
TOTAL TIME
40 MINS
These are the perfect sugar cookies to make at Christmas! No chilling and easy rolling as well as the perfect flavor! Everyone loves this classic cookie!
COURSE: DESSERT
CUISINE: AMERICAN
KEYWORD: CHOCOLATE SUGAR COOKIES, CHRISTMAS COOKIES
CALORIES: 128 KCAL
AUTHOR: AMANDA at iambaker.net
Ingredients
1 cup unsalted butter
1 cup granulated white sugar
1 egg, room temperature
1 tsp. McCormick Pure Vanilla Extract
1/2 tsp. McCormick Almond Extract
2 tsp. baking powder
3 cups all-purpose flour
Instructions
Preheat oven to 350° F.
Add butter to the bowl of your stand mixer and cream on medium-high for 1-2 minutes, or until butter is smooth and lighter in color.
With the mixer on low, slowly add the sugar and then the egg.
Scrape the bowl with the mixer off.
Turn mixer back on low and add in extracts.
Allow all ingredients to combine fully.
Add the baking powder and then the flour, 1/2 cup at a time, until fully incorporated.
Remove bowl from mixer and drop dough onto a floured counter-top. Roll out into a flat disc, about 1/2 inch thick.
Cutout cookies into Christmas inspired shapes and bake at 350°F for 6-9 minutes.
Let cool on the cookie sheet until firm enough to transfer to a cooling rack.
Frost with buttercream or glaze icing.
Parking Lot Safety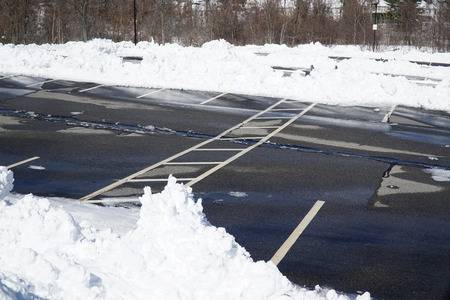 -Article Courtesy of the Ohio Bureau of Workers Compensation
-Author, Cari Gray
Before you begin, look for an instance of employees or customers falling or having near misses in parking lots.  You may want to check your organization's Occupational Safety and Health Administration 300 logs, BWC claims history and accident reports, and contact your liability insurance carrier.  Also, consider asking employees if they have ever had an incident or near miss in a parking lot to obtain good examples for training.
You will learn how to identify the main safety concerns in parking lots, how companies and employees can reduce injuries in parking lots, and how to increase awareness for issues in parking lots.
A significant number of injuries occur among employees, customers and visitors in parking lots and other exterior areas of facility.  It seems that every business has at least one serious injury or workers' compensation claim a year related to falls in parking lots or on other exterior grounds.  Taking actions to identify hazards and make corrections can prevent these types of injuries, and reduce the pain, suffering and financial burdens that injuries can cause.
Below, we will focus on three main concerns related to parking lot safety: personal security, slip and fall injuries and vehicle accidents.
Personal security: Always emphasize and practice personal security in parking areas.  It is important to scan the parking lot for threats while leaving or arriving at your vehicle.  Whenever possible, travel with someone if you are going to an unfamiliar or unsafe place.  Arrange for someone to escort you if you have concerns.  Try to park in well-lit spaces and avoid secluded or obstructed areas.  Be prepared to enter and exit your vehicle quickly by having your keys ready.  Hide and secure valuables.  Above all – stay alert and aware of your surroundings at all times.
Slip, trip and fall hazards:  Mitigate slip and fall exposures in parking lots by focusing on a few key items.  Make sure you keep all parking lots and sidewalks in good condition.  If speed bumps are necessary, clearly identify them so they do not become tripping hazards.  Mark routes separately for traffic and pedestrians.  Make certain illumination is adequate and replace burned out lamps promptly.  There are also items that you should focus on during inclement weather such as rain and snow in relation to slip and fall injuries.  Be sure to maintain parking lots for water drainage and snow removal.  Snow removal responsibilities need clearly defined whether done internally or externally.  If snow removal is an inside job, be sure the proper equipment, including snow removal vehicles, salt (or ice melting chemical), snow blowers and shovels are available.  If you contract with an outside company for snow removal, make sure your expectations regarding the timing and frequency of removal are clearly defined.  Remind employees frequently to slow down and focus on walking when there is snow and ice.  Wear proper shoes while going in and out of a building. Walk with your feet turned outward and in small shuffling steps when possible.
Vehicle Accidents:  Many motor vehicle accidents happen in parking lots.  There are a variety of things that a company can do to reduce the likelihood of having a vehicle accident in a parking lot. Maintain speed limit signs and enforce a safe speed in all parking lots and access roads.  Ensure the traffic pattern and parking spaces are obvious and marked.  Parking spaces need to be large enough. Maintain good illumination and visibility in all areas of the parking lot.  Finally, train all employees on parking lot safety to increase awareness.  Employees and customers can prevent accidents by following a few suggestions.  Be aware and look in all directions as you travel.  Watch for cars that might be cutting diagonally across the lot, and drive slowly.  Employees who have to work in parking lots as attendants, escorts, security or cart collectors should wear reflective vests.  Always drive slowly, use turn signals and yield the right of way to cars travelling along aisles. Try to align your vehicle in the center of a parking space.  If you park over the line, diagonal or not into a space far enough, you may not give other drivers the appropriate room to park their vehicle without harming yours.  Also, look for spots where you can pull through and face out to prevent the need for backing when you leave.  Avoid parking between large vehicles whenever possible.  Spending a little extra time to park your vehicle will improve your chances of avoiding an accident.
Group activities: There are many things to do to get trainees involved in parking lot safety.  Have the group take a tour of your parking areas to identify hazards.  Get a small group involved in evaluating the flow of a parking lot or sidewalk traffic.  Finally, ensure all employees have a way to report concerns about safety including those in the parking lots.
Safety does not stop when you leave the building.  Parking lot safety needs emphasized and followed to prevent harm to customers and employees.  Focusing on personal security, slip and fall injuries and vehicle accidents can go a long way in reducing injuries and positively affecting the bottom line at your company.
References:
Author Cari Gray, CSP has been a safety consultant for BWC since 2005. Prior experience includes the EHS manager for General Electric and JR Engineering. She has an environmental science degree from The Ohio State University.
Structures
Adding a structure to your outdoor living space will allow you to enjoy the seasons a while longer.  Whether you decide on a gazebo, a pergola or a pavilion you will not regret extending your home into the back yard!  Mock Property Services is an Authorized Dealer for Berlin Gardens in Millersburg, Ohio and can provide you with endless options and features to choose from.  Visit their website 
HERE
 to build your wood or vinyl structure, and call us for a quote!
Call for a quote today!
330-628-9100
How to Store Non-Hardy Plants through the Winter
Gardeners in cold climates never know what to expect during the winter. We may have snow, we may have unusually warm conditions, too much precipitation or not enough. Chances are good we'll have a mixed bag of weather and while we huddle indoors by the fire, our plants have to take it on the chin. Even if you strictly adhere to buying only plants that are hardy in your zone, there's no guarantee nature will stick to the agreement. It helps to have some tricks in your bag to protect your special plants and those that are marginally hardy.
Some garden plants are perfectly happy to be brought indoors and grown as houseplants. They can handle the drier winter conditions and most even enjoy the cooler temperatures. You may have to test out the best spot for sun exposure since winter sunlight isn't very intense. But bringing in a coleus or fuchsia is a nice reminder of the garden that was and the one that will be.
A Little Insulation Goes a Long Way.
One of the biggest winter headaches is what to do with potted containers. Plants that are at least 2 zones hardier than your growing zone should be able to survive the winter outdoors in containers. You may need to provide some extra insulation and be certain your container is made from a frost tolerant material. Read on for some suggestions for good insulation.
Roses always seem to come through winter with a little damage. Sometimes they refuse to go dormant and are hard hit by frost. Or maybe black spot or chafers stick around for the winter, to get an early start in the spring. Many roses are grafted onto root stock and need a little extra protection to prevent the graft from winter injury. These 8 tips will help your roses batten down for winter and survive intact until spring.
Summer blooming bulbs require so little care during the growing season, they are hard to resist. Who doesn't love a little touch of the tropics in their garden? Unfortunately, when you don't actually live in the tropics, you can't just leave the bulbs in the ground over winter. Well, you could, but they wouldn't survive. If you want to grow your cannas, dahlias and elephant ears again next season, they will need to be dug and stored.
They label them "hardy" mums, but more of them are tossed in the compost than make it through the winter. The mums that spring up in garden centers in the fall have been treated and forced, to look picture perfect in your fall displays. They can survive the winter, but they'll need a little TLC. There are also many other types of mums you can grow in your garden, that are truly hardy and indifferent to winter. You might want to try both.
What's a water garden without water lilies? There are water lilies that are hardy down to USDA Zone 3. They can be left in the water, provided there is enough depth for them not to freeze. Tropical water lilies and hardy plants in shallow water will need to be brought inside. It can be a little messy, but you'll be ahead of the game if you want to divide them in the spring.
If space is an issue, but you still want to save some plants for next year, consider taking some cuttings of your existing plants. They will start out small and grow slowly, at first. But if you have a favorite begonia, plectranthus or coleus and you want to make sure you have it again next year, cuttings are an easy, inexpensive way to create more plants.
It may sound like wasted effort to mulch in the winter, but this is a different type of mulching. Rather than suppressing weeds and conserving water. Winter mulching isn't used to keep the ground warm, it's meant to keep the ground frozen. Frozen ground won't kill hardy plants, but repeated freezing and thawing will. The expanding and contracting of the soil can push plants right out of the ground.
A layer of snow is excellent winter mulch for plants.
Adding an outdoor patio, outdoor kitchen, firepit or retaining walls will increase your home's value and expand your living space right into the outdoors!  Mock Property Services is your ONLY Authorized Dealer in Ohio for EP Henry hardscaping products.  Whether you are a DIY customer, a contractor, or you want us to do it for you…we have everything you need.  Check out these beautiful projects to get inspiration for your next project!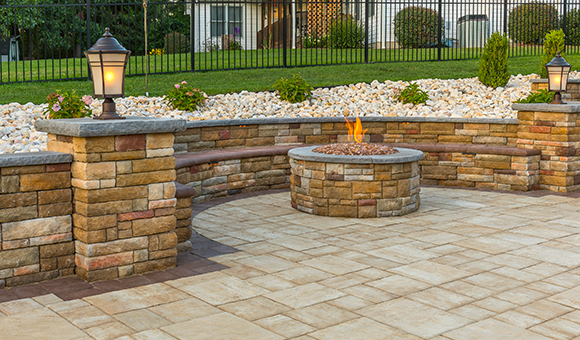 Call for a quote today!
330-628-9100
Have a Pond?
Mock Pond and Landscape Supply can provide you with anything and everything you will need to build or maintain any type/size water feature.
From pond-less waterfalls and fountains, ornamental koi ponds, and earth bottom ponds/lakes with acreage, we have experts on staff that can answer any questions you may have.
Cari, our store manager, is licensed with the State of Ohio in Aquatic Pesticide Application and has completed many hours of training to troubleshoot problems and recommend solutions to care for your earth bottom pond.  It doesn't matter if you have a 1/8 acre or an 8 acre pond, she can help!
Our retail store is open from April 1st through November.  We stock many sizes and varieties of koi and goldfish, as well as aquatic plants.  Mock Pond and Landscape Supply also has a full line of treatments and additives to care for your pond or lake, as well as
a full selection of pond pumps, lighting, fish food and treats, mulch, soil and gravel.  We hope to see you soon!
SERVICES
At Mock Property Services, our goal is to provide you with a source for "All Your Outdoorzy Needs" to help you "Love Where You Live".
We offer many products and services, complete project completion, and consider ourselves a "one stop shop".  Below is a list of services that we offer:
Hardscaping
Outdoor Structures
Water Features
Design/Build Consultations
Pond Maintenance
Landscaping
Lawn Care and Fertilization
Commercial Snow Removal
Excavation/Grading
We are currently scheduling projects for the Spring 2019 – Call today to start the process!
330.628.9100